A couple of matters caught my attention this morning, from the world of journalism and coffee shops.
Part 1 … Friday the fifteenth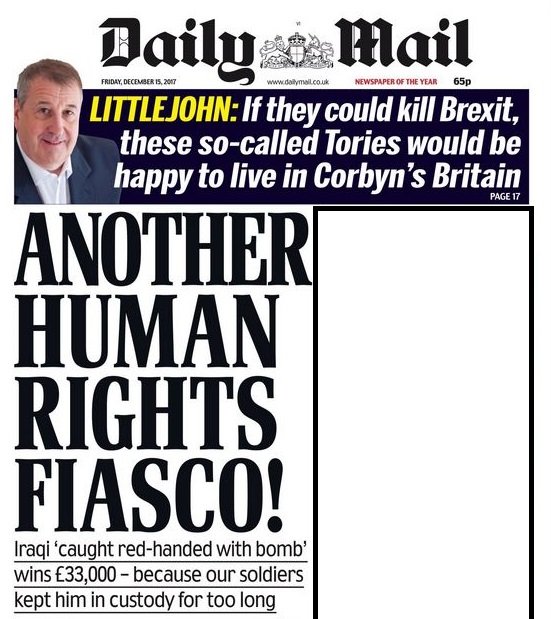 The Daily Mail wants us to believe that an Iraqi bomber has been awarded £33,000 in damages for being unlawfully detained.
In fact, as we can see from the judgment, the damages for unlawful imprisonment amounted to just 10% of that figure – at the rate of £100 per day.
I wonder how the editor of the Daily Mail would feel if he, or someone close to him, were held unlawfully and received £100 per day in compensation.
The other £30,000 was for matters which most of us would consider to be torture.

Part 2 … Wayne's World
A Swedish coffee shop has launched in London under the not-very-Swedish sounding name of Wayne's coffee. Their first branch is around the corner from me.
A substantial banner announced that, as part of their opening celebarations, there would be "50% of hot drinks". Knowing how easily a typo can be missed when there are other things to worry about (50% off hot drinks, presumably?), I went in this morning and ordered my drink.
"I'm sorry", the barista said, "our machine is broken. Would you like a cup of tea instead?"
So, not a typo after all. They really are serving only 50% of hot drinks today. But why advertise the fact?
[Update 1: The Daily Mail has subsequently published not one correction but two – presumably because the first correction was deemed not to go far enough – acknowledging that the portion of the damages relating to unlawful imprisonment was £3,300 and also that the claimant was not, in fact, involved in bomb-making.
Update 2: Wayne's coffee tweeted an invitation to me to return to their coffee shop for a free drink and a piece of cake, both of which were delicious.]